Equine ulcers are the result of a repeating cycle of increased acidity, decreased appetite, and the formation of an ulcer—followed by moderate to severe discomfort.
Ulcers in horses can develop within as little as five days.1
Often the result of stress, which causes an increase in stomach acid secretions that damage the stomach lining, ulcers are painful and lead to an aversion to eating. Eating less roughage causes the horse's digestive tract to become more and more acidic, leading to more ulcerations, appetite suppression, and pain—and the cycle continues.
Factors that can contribute to ulcers include:
High-starch diets that increase acid production
Strenuous training plans
Feeding pattern (fewer meals per day)
Certain medications
Lifestyle and stress
Although common in performance horses, gastric ulcers can be a problem for all types of horses. Depending on a horse's age, breed, and activity, the rate of equine ulcers may rise to 93%.2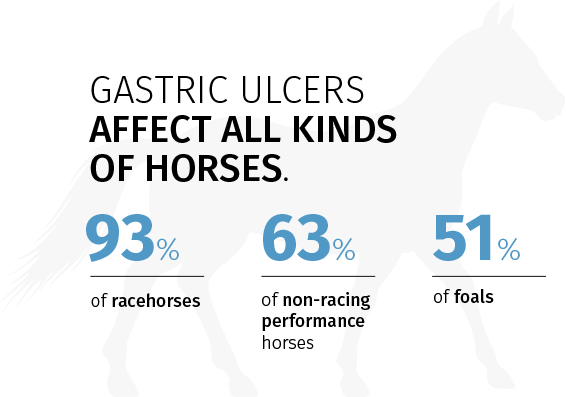 1. McClure SR, Carithers DS, Gross SJ, et al. Gastric ulcer development in horses in a simulated show or training environment. JAVMA. 2005;227(5):775–777.
2. Murray MJ, et al. Factors associated with gastric lesions in Thoroughbred racehorses. Equine Vet J. 1996;28:368–374.